Being a parent requires quite some imagination and creativity. Most kids are easily get bored and don't like things to be repeated. That required us parents to dive into our hidden talents of originality and innovativeness we never knew we had. But let's face it, coming up with a super fun, educational or healthy adventure every day is just not possible. And that's perfectly fine!
We put together a plan for a fun and adventurous kid-friendly day in Copenhagen, featuring the most photogenic and interesting locations (for children adventures), so not only will you spend an unforgettable day together, but you can also make some kick-ass family photos while doing so.
The program is highly customizable, so feel free to tailor it so it fits your schedule, emotional state (number of hours of sleep last night), weather and your children's mood of the day (who are we kidding, they're the bosses, right?).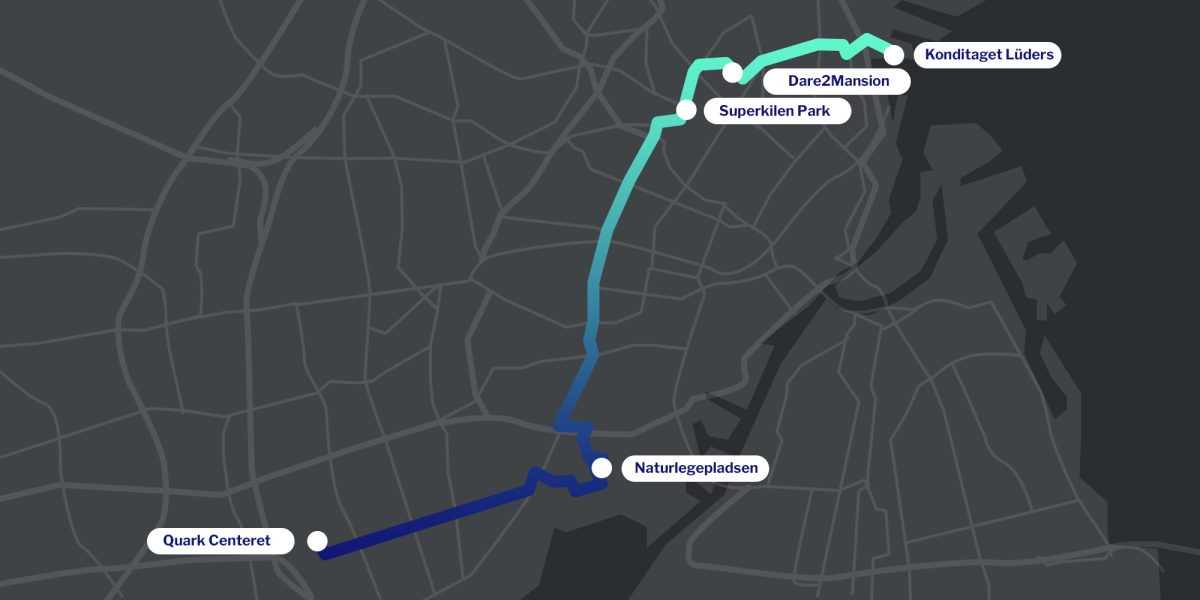 Let's Find Hilltop Trine!
Starting point: Filmbyen, Hvidovre
Trine is one of the six forgotten giants that can be found in the western part of Copenhagen. Click here, find the map for Trine (she's the last on the list) and let the hunting begin! The map will not tell you the exact location which will create a lot of excitement. I mean, is there anything better than searching for a hidden treasure? Have fun!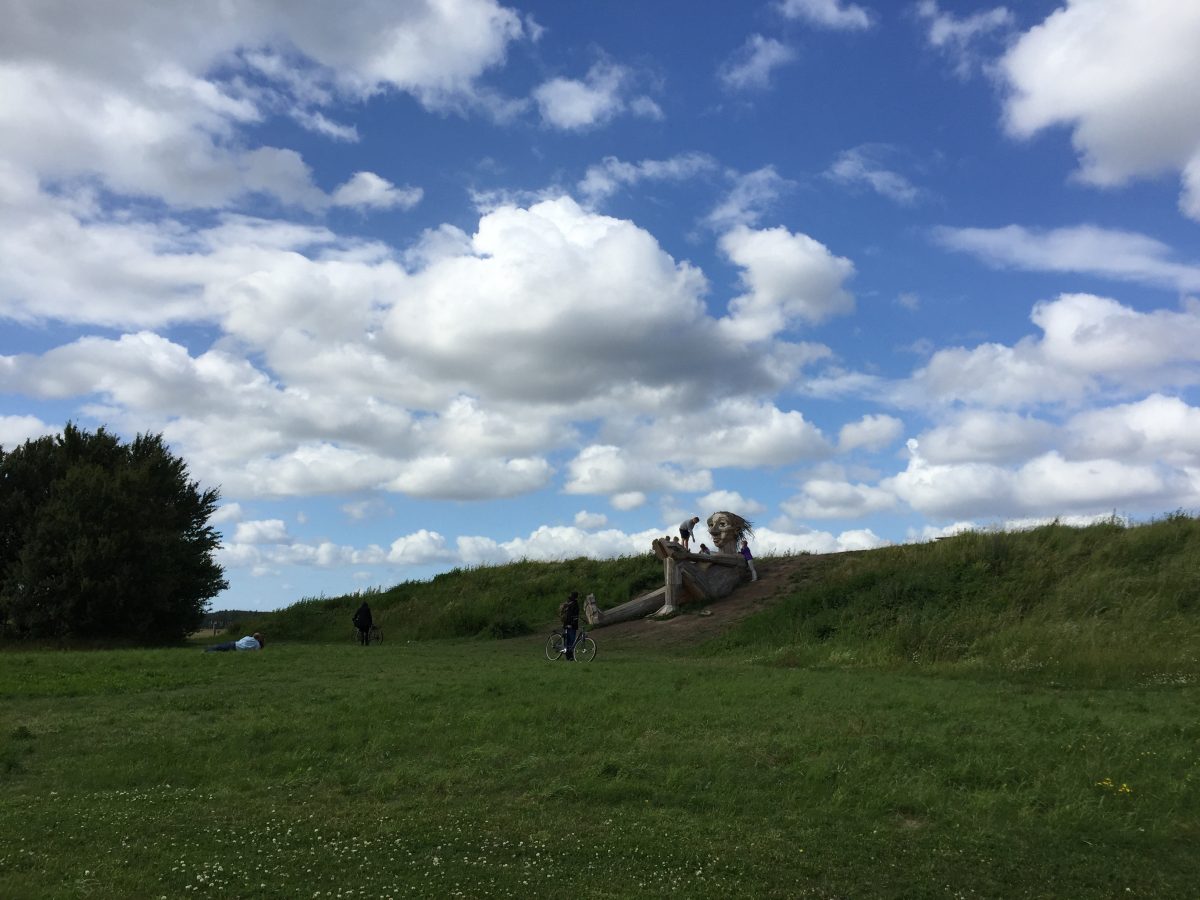 Photo suggestions:
Don't fear the giant, climb up and down and touch her nose.
Check the lightning. It's best if the sun shines behind the photographer or from the sides.
Lots of expressions is the key and don't be afraid to goof around, be scared of the giant etc.
Trine is part of the really cool Forgotten Giants project by Thomas Dambo, which is *hint hint* also in itself a great idea for a day of family fun.
Transport to the next location: 40-45 min by public transport –  20 min by bike – 15 min by car.
Naturlegepladsen in Valbyparken
Location: Hammelstrupvej 41, 2450 København SV
Naturlegepladsen is located in Valbyparken and it's the largest of its kind in the country. Kids can enjoy willow houses, sand areas, climbing grounds, towers connected by a bridge and much more in this awesome park. Truly a unique experience and great photographic potential for sure!

Photo suggestions:
We think it's time for a family selfie from the feet upwards with the tower in the background. Don't be afraid of the fun angles – get the camera comletely up or down, and be sure to get all family members included.
Who is faster to get from point A to B on the path? Let's document it with a photo!
If you don't have a photographer buddy with you, get a cheap tripod – it will do the trick!
Transport to the next location: 30-40 min by public transport – 25 min by bike – 20-30 min by car.
Superkilen Park
Location: Nørrebrogade 208, 2200 København N
This open space urban area in the heart of Nørrebro is really a gem! It consist of the Red Square, the Black Market and the Green Park. The greatest thing about it is that serves as an exhibition of the world's diversity – everything from sculptures, benches, trees, fitness equipment, barbeque and even soil and trash cans are from different countries around the world. Basketball hoop from Somalia, pavilion from USA, octopus sculpture from Japan, Osborne bull from Spain, hammock from Australia and sound system from Jamaica are just some of the little parts of it. Download the Superkilen app and get lost in researching this supercool place!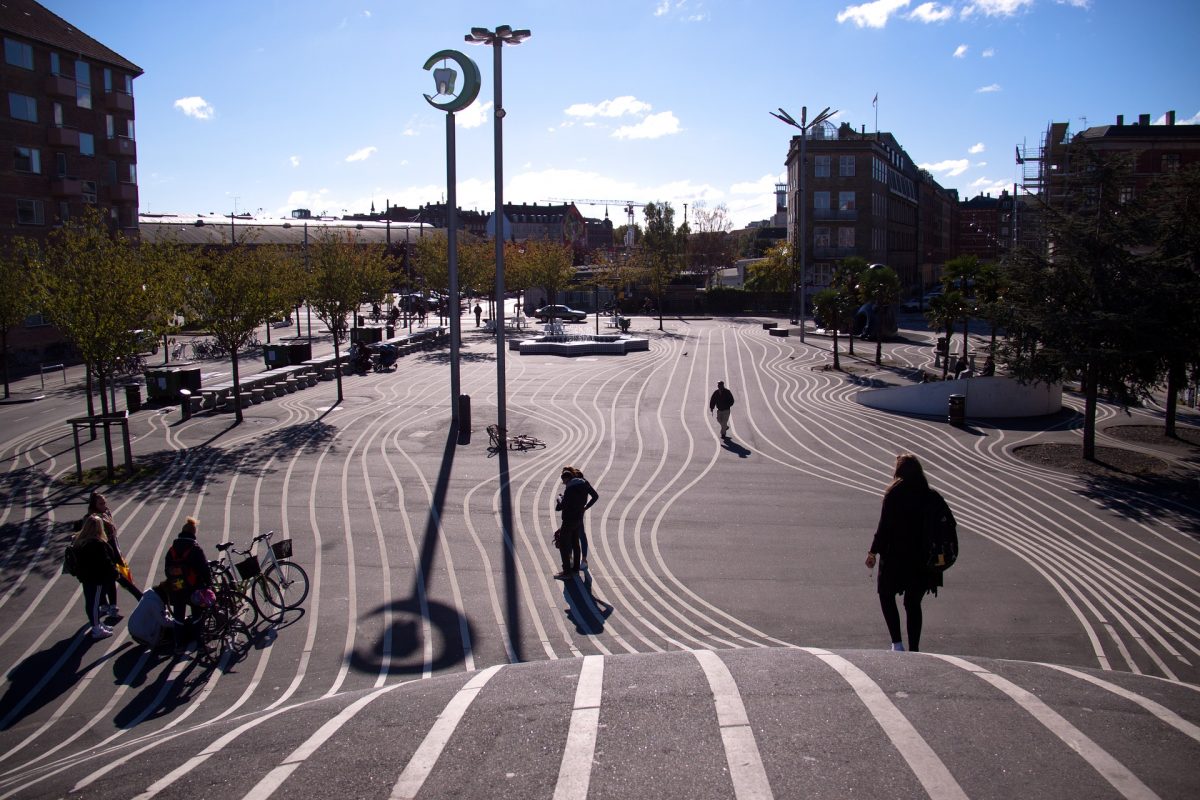 Photo suggestions:
An amazing white-striped road is a must! Let the photographer stand on the hill while all the family members are crawling on it (if you dare!) and take the best angle by putting camera on the ground.
Pick on one of the awesome benches – and get seated, starting from biggest family member to the smallest.
Do the breakdance tricks going on on the striped or red surfaces. It will look quite cool!
Transport to the next location: 20 min walk.
Find 5 Pieces of Street Art
While walking from Superkilen Park to Dare2Mansion, your mission is to find 5 examples of street art – could be anything from graffiti, walls, nicely coloured fence or similar. It will make you see the streets of Copenhagen in a totally different way and we assure you it will be a great fun! And don't forget to take photos!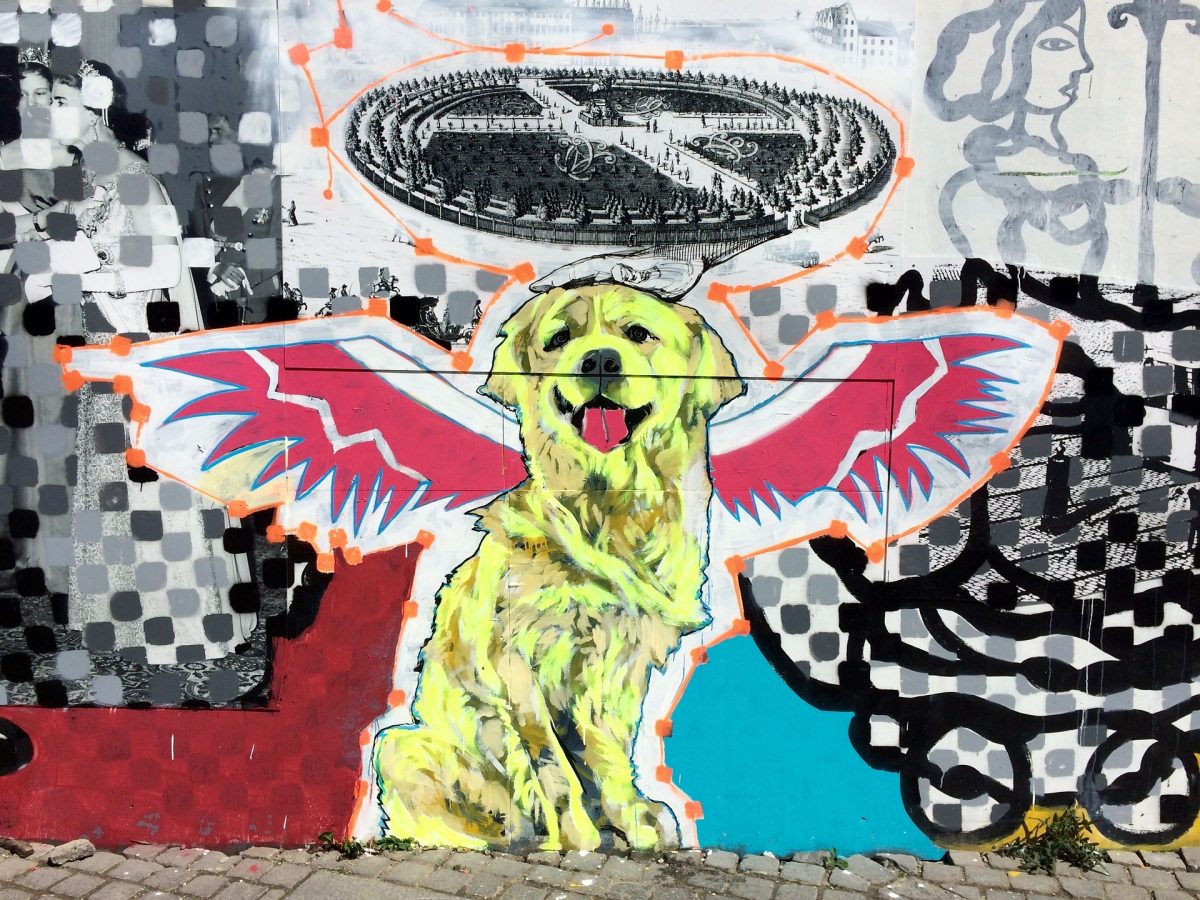 Birdhouse Tree on Dare2Mansion Wall
Location: Vermundsgade 13, 2100 København Ø
This lovely piece of art is also a work of Thomas Dambo (he's the guy behind Forgotten Giants as well) and is a part of his Happy City Birds project. Thomas is changing the people's perspective of street art into something positive through installing birdhouses in different contexts. This tree with numerous birdhouses is made out of scrap wood and recycled materials.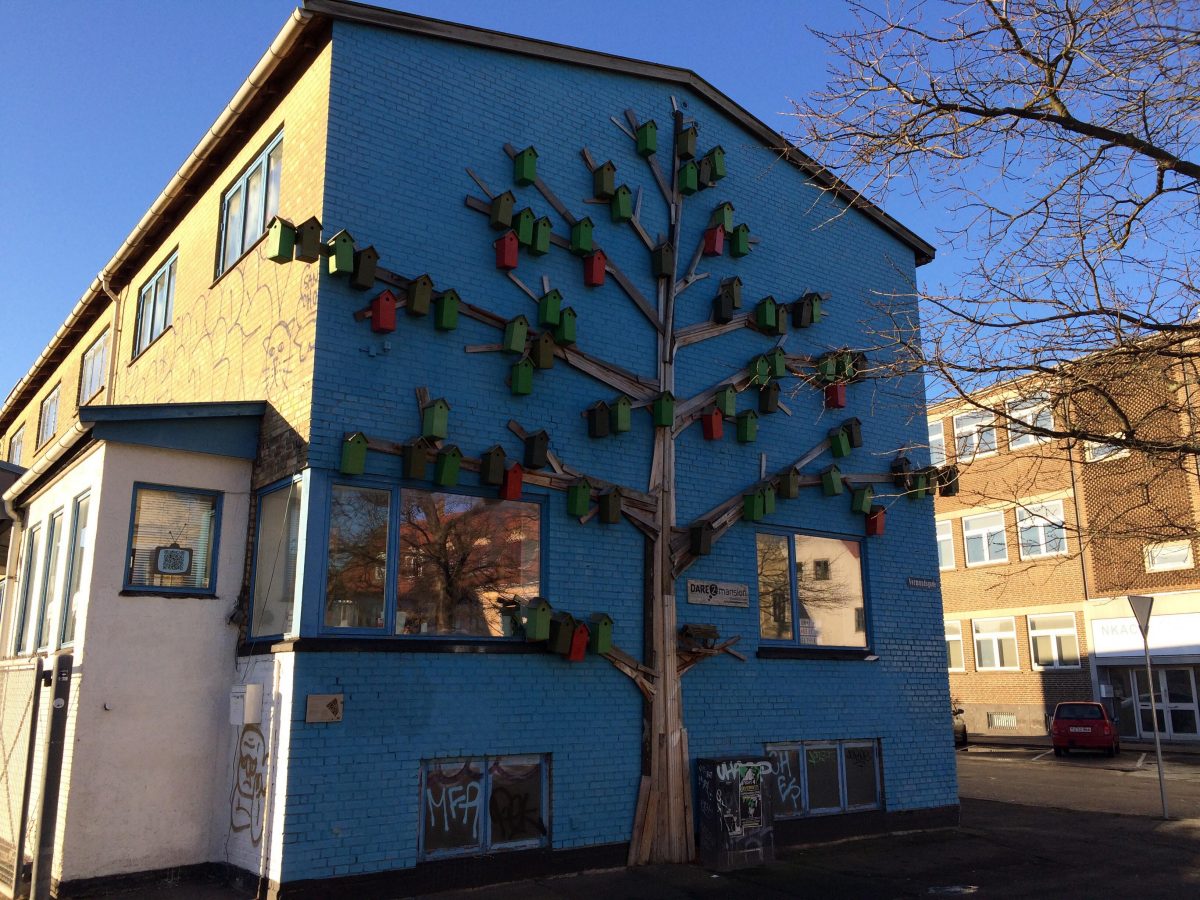 *Hint hint* search around the birdhouse wall and perhaps you´ll find this pretty unicorn. Good luck!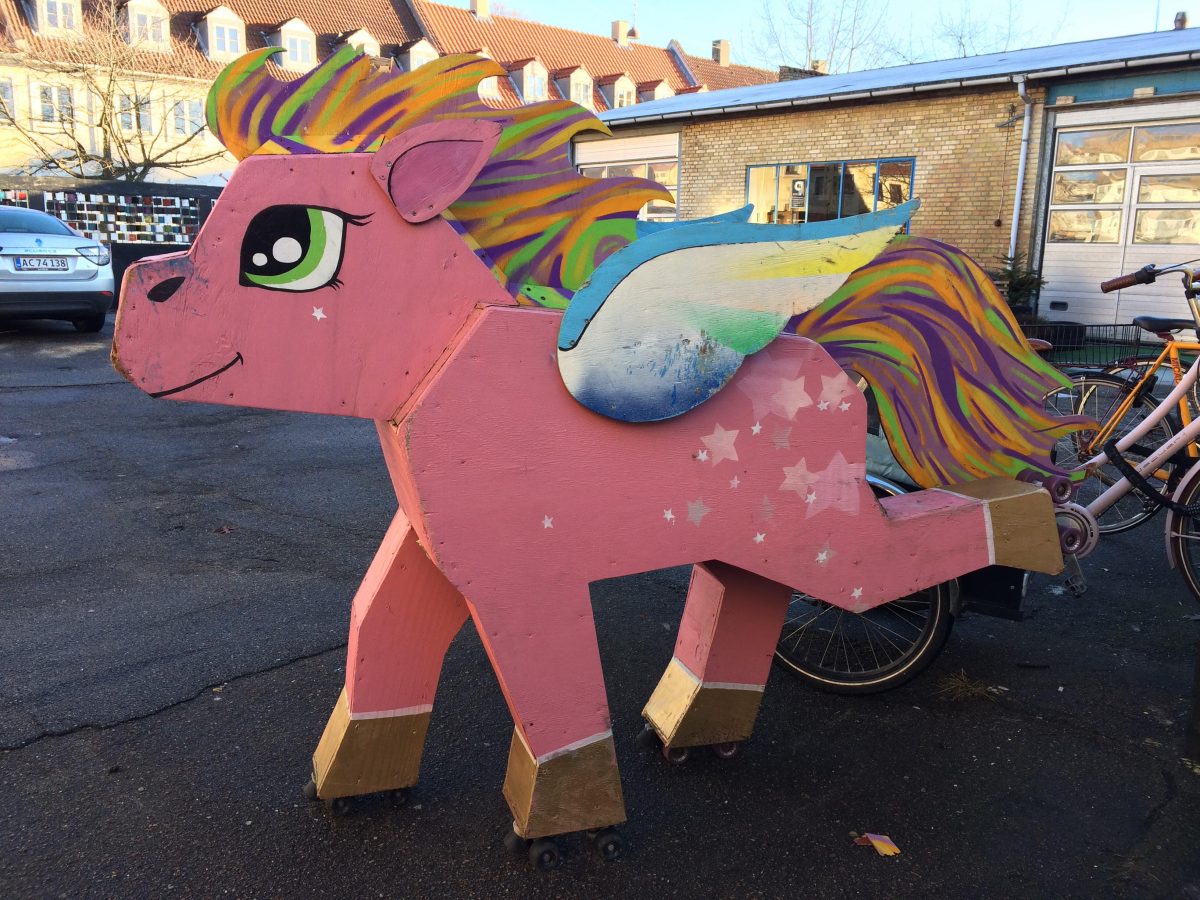 Photo suggestions:
Can you reach one of the birdhouses? Give it a shot or pick up one of your kiddos for help
We mean, the wall is quite rad, everybody puts one leg on the wall and gets their best swag expressions.
Transport to the next location: 25-30 min by public transport – 12-15 min by bike – 15-20 min by car.
Konditaget Lüders
Location: Helsinkigade 30, 2150 Nordhavn
This is the activity and urban place, located on the roof of parking house – how exciting! Here you will found a great variety of equipment for sports, play and fun. Kids will enjoy swings, trampolines and climbing spirals, while you can run a circle or two or even do your fitness or crossfit routine. All of that with a magnificent view over the harbour!
Photo suggestions:
Jump your highest jump on the trampolines and get the shot!
Get a smiling picture on one of the swinging benches.
Finaly family selfie time from the roof with the view of the harbor.
Congratulations, you've made it until the end! You're 25 min by public transport, 15 min by bike and 20 min by car away from the city center if you want to continue your adventure or grab something to eat.
We hope you will enjoy the day, get unforgettable memories and some wonderful family photos!
Thank you for reading our stories.
Until the next one,
Concord Events team