As parents, we would all like to provide quality time for our kids. We want them to have fun and if they learn something in the meanwhile, we have won! But the reality is, that we are not always full of ideas. Sometimes there's not much time, sometimes we are exhausted, sometimes we just don't have stuff we need for executing the idea and some of us just aren't the creative type of a person with a constant pool of amazing ideas in our heads. Therefore, we have gathered some very simple creativity ideas how to get crazy creative (instructions + where to get supplies), including ideas for DIY fastelavn costumes (the simplest ones, we promise!) and suggestions on who you should follow for more. Happy creating!
Drawing On Ceramic Pots
You'll need:
Acrylic paint.
Brushes.
Ceramic pots.
Clothes to change or some cover for kids to get dirty.
Optional: Soil, plant or seeds, water.
Now all you have to do is use acrylic paints to draw on ceramic pots and make them look wow. The final product is also a great gift idea!
In Søstrene Grene it is possible to get acrylic paint one by one or a full collection of small tubes as well as brushes. Buy ceramic pots in Plantorama, Bauhaus or any garden center on this list.
Inspiration:
Pouring Paint
This one will also work perfectly as a gift or a new interior detail for your home. You´ll need:
Here's how you do it:
Cover baking tray with plastic bag so the canvas can stay there and paint can run easily. Pour one part of each color in its own cup, then pour around 1/3 part water and little splash of pouring medium. Mix color very good, the consistency of every color should be the same, pour a bit more water or color if necessary.
Take clean cup and pour colors one by one, without moving cup or mixing colors. Suggestion: pour white color as first and last, it will make other colors float better and will act as a base.
Put the canvas on top of the cup and then flip canvas and the cup upside down without moving the cup. Then take away the cup and be sure all paint dropped on canvas. Take canvas and move it around so it covers all the edges.
Pro tip #1: Take straw and blow the paint – it can create some nice cells.
Pro tip #2: Silver acrylic color from Søstrene Grene does some amazing cells!
Pro tip #3: If you want to go bananas and total pro on pouring art, then find videos on Sløjd detaljer Youtube channel (example) and learn to use more materials and different techniques.
Inspiration:
Skein of Yarn
This is just genius! You can do a proper, elaborated version or last-minute-what-can-I-use one. You´ll need: poster board for a label, pipe cleaners or any type of cord/string you have available in your home, wooden dowels and beads which could be replaced by any kind of wooden stick you can find (create beads out of cardboard, paper or cotton wool), scotch tape or glue gun and markers to write on the label.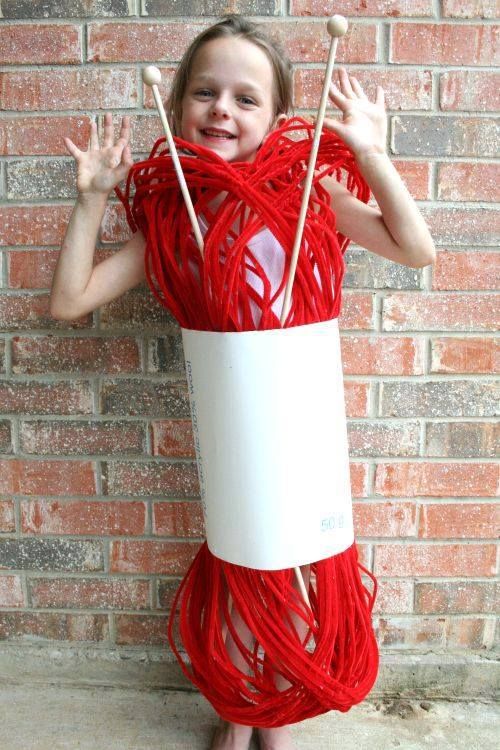 Idea and photo credit: https://dukesandduchesses.com/skein-of-yarn-halloween-costume/
Re-cycled Snail
We love this idea! Not only it looks absolutely adorable, but it´s also super easy too make, it requires just a bit of trash recycling which makes it easy, cheap and environment friendly. What more could we wish for?
You´ll need: kraft paper or any paper you wanted to throw away, masking tape, headband, cotton wool, ribbon and glue gun. Crumple, roll, twist and roll to get a shell (2x), attach the piece of cardboard and ribbons to make braces. Twist two more pieces of paper (so that they stand on its own) and attach them to headband. Finally roll the beads out of cotton wool, glue them at the end of the paper pieces on the headband and voilá!
Idea: http://ohhappyday.com/2012/10/snail-costume/
Bat(Man)
Here is an easy way to create bat or batman costume (depends on what kind of face mask you will cut out of paper). You´ll need black fabric, black paper and some black clothes for underneath and… that´s it! Grab scissors and cut fabric as you see on the picture in the link below. Fold the upper parts for hands and use a glue gun to make sleeves – you can also sew those. Now cut the mask out of black paper – it can be a bat or a batman mask. Make small holes on each side and put the thin elastic band in so it can stay on the head. You can easily upgrade it with printing the batman sign and attach it to the black shirt.
Idea: http://www.familicious.de/diy-halloweenkostuem-fledermaus/
For more simple creativity for kids you should follow these Instagramers:
@mielaerkerasmussen
@ultraklog.dk
@avform
@boerneuni_sfo
Thank you for reading our stories.
Until the next one,
Concord Events team